Pernod Ricard-owned Chivas has introduced Ultis XX, a blended Scotch whisky containing five single malts aged five to 20 years.

Utilis XX has been crafted by blending a 20-year-old age statement to the original Ultis blend, alongside Chivas' signature grain Strathclyde.
The liquid is said to honour five generations of master blenders by combining five of the brand's 'precious' single malts: Strathclyde, Strathisla, Allt A'bhainne, Braeval, Longmorn, and Tormore.
Sandy Hyslop, Chivas master blender, said: "Ultis XX is the ultimate tribute to the five generations of master blenders who preceded me in dedicating their life's work to mastering Chivas' iconic house style. Each of the single malts used within this blend brings their own complexity to the whisky, just like each master blender brought their own unique style to the Chivas blend. With less than 1% of the millions of casks within our inventory used, and each cask individually hand-selected and nosed, we have ensured only the highest quality are included in a blend worthy of a celebration."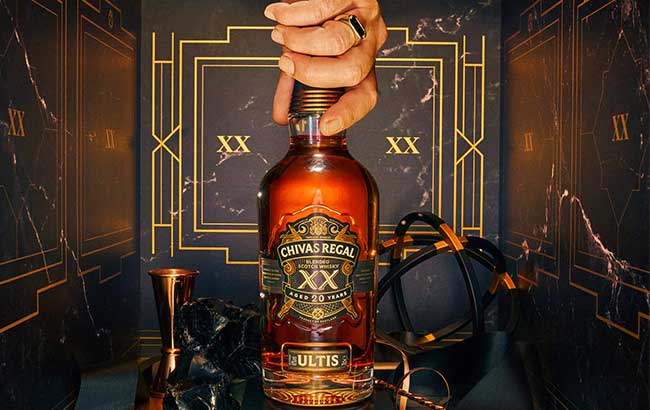 The whisky is distilled exclusively in copper stills and presents aromas of juicy red apples, interlaced with raspberry jam, fresh vanilla pods and sweet butter toffee on the nose. On the palate, notes of blossom honey, milk chocolate and poached pears in syrup are delivered, followed by a long, sweet, and smooth finish.
Nick Blacknell, Chivas global marketing director, said: "I'm thrilled to be launching an evolution of our iconic Ultis blend. Adding XX to the Ultis name is a clear signal to the decadence that comes with the addition of a 20-year-old age statement and the complexity of flavour that whisky fans can expect from this premium blend. With this evolution, we have once again reinforced our belief that whisky is the ultimate choice for a new generation of drinkers. As we continue to challenge traditional conventions of blended Scotch, Ultis XX takes pride of place as the pinnacle of our portfolio and the ultimate flex to elevate those 'I've made it' moments with."