This summer, leading travel retailer The Shilla Duty Free Singapore and Changi Airport Group have jointly partnered Guerlain to launch a majestic Outpost at Terminal 3 to commemorate the worldwide premier of the brand's new generation of Abeille Royale Expert Skincare Creams, as well as to showcase its popular makeup and fragrance lines, namely the Rouge G and Aqua Allegoria.
Committed to continuously present unique and coveted shopping experiences, the Guerlain Outpost – located beside The Shilla Duty Free Singapore's Terminal 3 Cosmetics & Perfumes central store at the Departure hall of Singapore Changi Airport from 3 July to 6 August 2019 – will be a delightful retail spot for travellers to browse and shop as they experience the unique offerings by the brand.
Established since 1828, Guerlain has explored, innovated and perfected its craft in fragrance, skincare and makeup in its endeavour to make women, more beautiful. The promise of joyful, radiant beauty is an ethos epitomised by an extraordinary place: Maison Guerlain at 68, Champs-Elysées in Paris.
This Summer, pampering and teleporting to the four corners of the world has never been easier with Guerlain's Summer Essentials: Abeille Royale, Rouge G and Aqua Allegoria.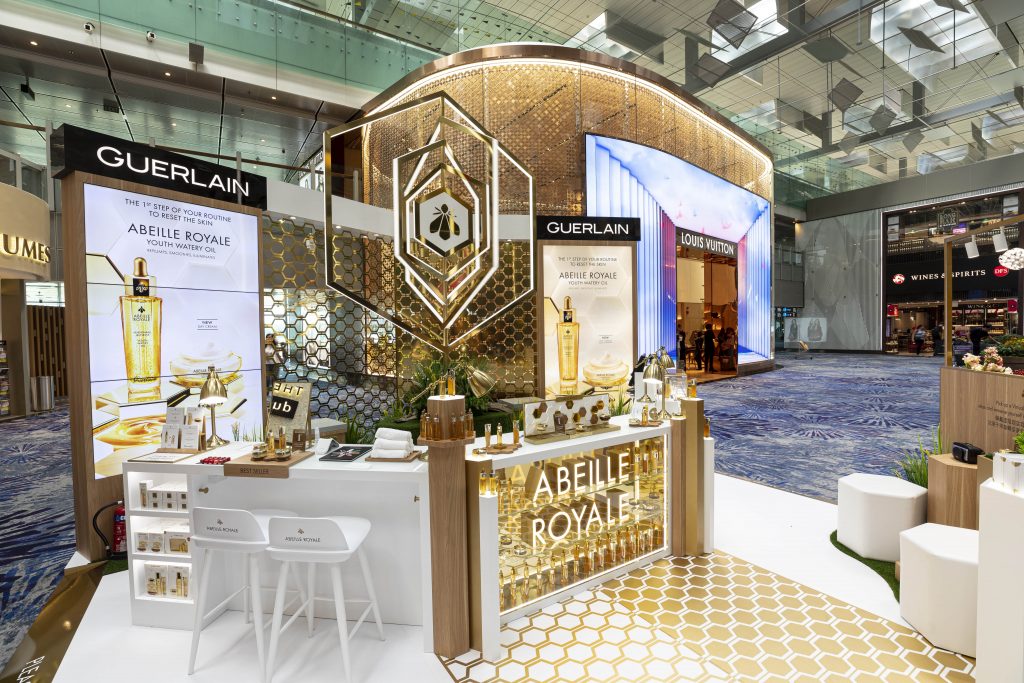 In partnership with Changi Airport Group and The Shilla Duty Free Singapore, the exclusive Outpost will celebrate the worldwide pre-launch of the new Abeille Royale generation of expert skincare creams.
Travellers can embark on a journey to discover Guerlain's Summer Essentials. In a luxurious display, customers will be invited to complete three steps of retail-tainment to learn more about Abeille Royale, Rouge G and Aqua Allegoria. Each customer will receive a card to collect three stamps. Upon completion of short experiential activities, they will receive generous surprises.
Travellers can immerse themselves in the natural and sensorial universe of Abeille Royale. This include a comprehensive skin diagnosis, discovering the island of Ouessant through VR technology, tasting the delicate sweetness of honey and relaxing with complimentary hand massages.
To complete their full beauty routine, they can also indulge in the amazing, colourful customisation concept of Rouge G and create their own free personalised ribbon bracelet.
Most importantly, travellers can find their favourite Summer scent from the Aqua Allegoria collection through a personalised fragrance consultation.
"The Shilla Duty Free in Singapore always seeks for luxurious, inspiring activations to engage our travellers. We are very proud to collaborate with Guerlain, a legendary French Perfumes & Cosmetics house, who has created a unique, eventful outpost to showcase its 3 axes (Fragrance, Skincare and Make-up) in Changi Airport. The retail activation provided in this pop-up store will appeal to all travellers and invite them on a multi-sensorial journey with high-level customisation possibilities" says Mr. Jeff Lee, Managing Director of The Shilla Duty Free Singapore.
Ms Teo Chew Hoon, Group Senior Vice President, Airside Concessions at Changi Airport Group, comments: "Together with the timeless luxury French perfumes and cosmetics house Guerlain and The Shilla Duty Free in Singapore, we are honoured to unveil the worldwide premiere of the new generation Abeille Royale expert skincare creams. Beauty enthusiasts travelling through Changi Airport will be treated to a series of opulent experiences, while discovering Guerlain essentials perfect for the summer season."
RETAIL PRICES
Prices reflected are correct at the time of publication.
• Abeille Royale Day Cream/Rich Day Cream/Mattifying Day Cream SGD 211*
• Abeille Royale Night Cream SGD 247*
• Abeille Royale Travellers Essentials Set SGD 346*
• Aqua Allegoria 75ml SGD 110
• Rouge G de Guerlain Case SGD 29
• Rouge G de Guerlain Shade SGD 45
ABEILLE ROYALE EXCLUSIVITY*
• Global Travel Retail and Asia Exclusivity 1 to 31 July 2019