Louis Vuitton has announced the arrival of the "Louis Vuitton Lounge by Yannick Alléno" above its store in Qatar Duty Free at the Central Concourse of Hamad International Airport. Opened on 22nd May 2023, this exciting new space marks the ongoing collaboration between the three-star Michelin chef and the French Maison.
A destination for travellers to dine and relax ahead of their departures, the lounge-cumrestaurant aligns with Louis Vuitton's travel heritage while bolstering its ongoing culinary explorations. The lounge is open 24/7 and accessible from the Al Mourjan Business Lounge – The Garden at the HIA expansion. Visitors enter a contemporary, tropical setting bathed in soft light where emblematic Louis Vuitton elements such as stacked trunks are surrounded by lush greenery with atelier oï's colourful Quetzal bird creations overhead.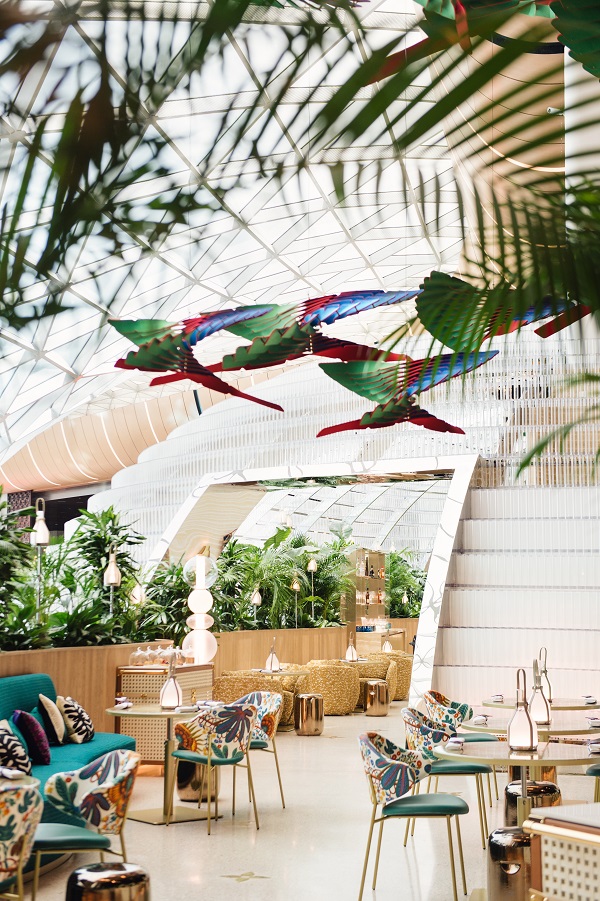 At once sophisticated and inviting, seating arrangements are interspersed with the Maison's designer edition pieces including India Mahdavi low tables, Paola Lenti high tables, Costela armchairs by Martin Eisler. Among the Objets Nomades is the Cosmic Table by Raw Edges and Bell Lamps by Edward Barber and Jay Osgerby. Vibrant twist glasses by Studio Louis Vuitton will stand out as part of the Maison's art de la table universe.
For the restaurant, Yannick Alléno has developed a "multilingual" concept that will satisfy and delight a wide range of visitors through all times of the day. The world-renowned chef, whose Alléno Paris at the Pavillon Ledoyen and Le 1947 at Cheval have Blanc Courchevel both received three Michelin stars, took a contemporary approach to the expansive menu by proposing specialties that highlight local ingredients, French favourites and international fare, along with dishes that recognise various palettes and dietary needs. From breakfast through brunch, Parisian viennoiseries and local baked goods are complemented by hot sandwiches and eggs, smoked fish platters, caviar and indulgent pastries. At all hours, visitors can choose from lighter fare or starters and mains that represent Alléno's inspired cuisine such as langoustine carpaccio with geranium essence, confit lamb shoulder flavoured with yuzu and pilaf rice with dried fruit and spices. Items can be enjoyed à la carte or experienced as a multi-course tasting menu. Says Alléno, "The menu is complex because, above all, it should please everyone."
Extending beyond the retail below, the new lounge underscores Louis Vuitton's presence in Doha where there are five stores across the city. Amidst the airy natural ambiance and artful expressions of flight, the space provides an elevated experience, whether to calm, nourish or recharge those in transit. What's more, the lounge offers a new platform for Alléno to bring his culinary to more people – locally and around the world. "Louis Vuitton is a collaborator of the highest quality. They have a modern and precise sense of luxury, an excellence that comes through in every detail."