Fendi Baguettes were the original It bags 20 years ago – and now they are back to make some new friends…
Fendi is looking to make friends with a younger generation. The famous Italian fashion company is placing a greater focus on the Baguette, a handbag it introduced in 1997 to great fanfare. Then, the Baguette was considered to be an It bag, an accessory that automatically signified one's status, wealth and fashion clout. Some even claim that it was the first to bear this moniker, during a time when the masses were rapid about luxury logos. Now, two years past its 20th anniversary, Fendi is reintroducing the once must-have item to a new base of consumers.
"The Baguette is part our heritage; it is part of what we are forever," said Serge Brunschwig, the chairman and CEO of Fendi in the brand's U.S. flagship store on Madison Avenue. "When you are fortunate to have something strong like this, it is your responsibility to take care of it. It is important to keep renovating it and making it in sync with the times."
"The Baguette today has a new identity," said Silvia Venturini Fendi, the creative director at Fendi and designer of the legendary bag, in a prepared statement. "Because the Baguette is like a best friend that never leaves your side, it changes as the times change, taking on new identities and expressions, but they all embody the Fendi DNA. The oversize Baguette is truly an all day bag that can be worn cross-body, or over the shoulder, or tucked under your arm, which is relevant to the new generation of Baguette lovers, and the collectors alike."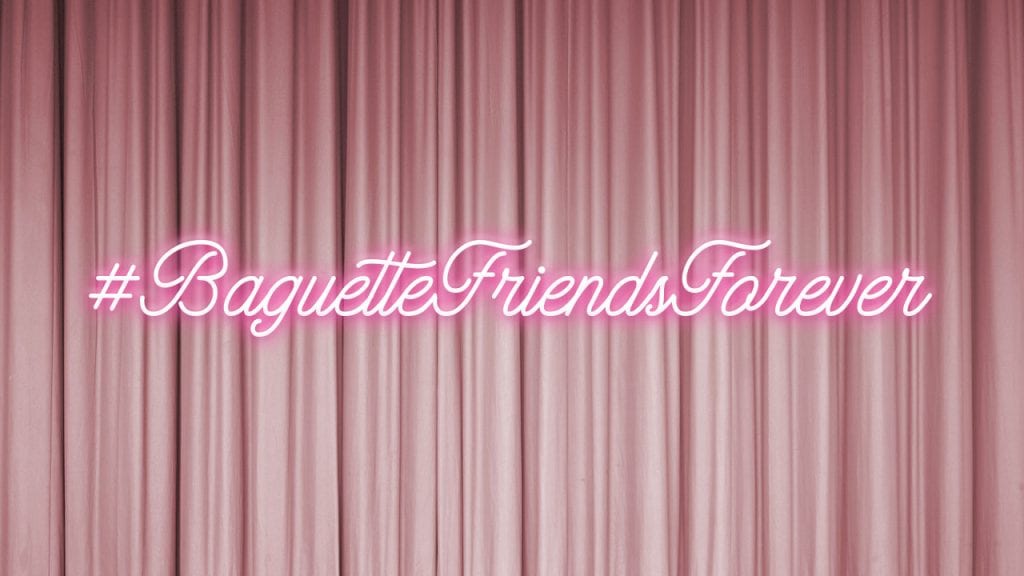 Essentially, the revamped design, which is made of embossed nappa leather, isn't the driving force of Fendi's new campaign. It's really about igniting the flame of consumerism, about enforcing an image to high-spending millennials and Gen-Zers that the Baguette is an entryway into a glamorous world.
"[The Baguette] is something recognizable and visible," said Brunschwig. "It is something that everybody knows. As such, it has a value—a very big value. The Baguette is a brand in itself. The It bag is a franchise."
https://www.instagram.com/p/Bs-Bb6qFjr2/?utm_source=ig_embed
Fendi has some new BFFs.
The Rome-based luxury company is launching another series of episodes to celebrate the new Baguette, relaunched for spring/summer 2019, hinging on the concept of friendship — with one special cameo by a longtime friend of the house: Sarah Jessica Parker.
The #BaguetteFriendsForever campaign, which was released on Fendi's social networks starting Jan. 23, follows last year's #MeandMyPeekaboo project that marked the 10th anniversary of the brand's Peekaboo bags. That campaign was first fronted by Silvia Venturini Fendi and her daughters Delfina Delettrez Fendi and Leonetta Luciano Fendi, followed by Kris Jenner, her daughter Kim Kardashian and her granddaughter North West, among others.
First designed in 1997 by Venturini Fendi, the Baguette is now represented in slightly new proportions with a soft F logo on embossed leather in pastel colors or fabrics ranging from denim to embroidered jacquard. "The Baguette never really went away and in time it has become a classic," said Venturini Fendi, remarking on the increased request for "content and fashion."
The designer noted that younger customers have also started to buy the Baguette. "All that has history is very attractive to them, and this style has expressed a series of concepts, it epitomizes the manifesto of individuality." Venturini Fendi said the style is "the same but also different and has become a collector's item, a conversation piece." In addition, she contended, "the choice of the model says a lot about the person and that person's history and feelings."
Commenting on Fendi's most recent communication strategy, digital marketing and social media reach, chairman and chief executive officer Serge Brunschwig said "fantasy helps — it breaks the rules. It's good to surprise and be unusual, but there is nothing forced. It's always important to find your territory. These are natural matches for our brand."
Fendi has been reaching out to a younger customer, who is "super happy to wear it, be close to it, post it and talk about it. What the brand is expressing, if it has an echo with this generation, then it's wonderful." At the same time, he believes wealthy "people with a certain maturity are looking at the same things younger people are looking at."
Brunschwig underscored that the Baguette has been revisited and adapted to the times. "It's not a relaunch of the same design." He drew a comparison between the Baguette and the Rolex Oyster, first launched in 1926, which is "always finetuned but it's still the same product. Or the Porsche 911, you recognize the silhouette, but it's changed and adapted over time."
Each new episode of the #BaguetteFriendsForever campaign follows a group of friends.
The first episode is titled "The Baguette is Back" and was filmed in Shanghai. Actresses Tan Zhuo and Qiao Xin are seen shopping at the Fendi boutique inside the IAPM mall with influencers Yuwei and Yoyo, choosing their look and their Baguette for their night out.
Hong Kong is the backdrop for the second episode, "The Missing Baguette," fronted by Taiwanese DJ Dizzy Dizzo; Singapore-based fashion 'It'-girl Yoyo Cao; Japanese model Hikari Mori, and Korean DJ Peggy Gould, all frantically looking for Mori's lost Baguette.
The third episode was filmed in New York. Titled "The One and Only Baguette," it shows how influencer Caro Daur realizes during a lunch with her friends, influencer Natasha Lau and models Ebonee Davis and Melissa Martinez, that she really wants to buy a vintage, purple sequined Baguette she saw earlier at the Fendi store. They all run together to the boutique, but the bag has been sold. A woman is walking away with the goods and when they reach her, they realize it's Sarah Jessica Parker, who exclaims: "This is not a bag, it's a Baguette."
The soundtrack of each film is Groove Armada's "My Friend," emphasizing the friendship theme.
Fendi will be holding events to present the new campaign at its store in Shanghai at the IAPM mall on Jan. 23, followed by the unit in Hong Kong at the Landmark on Jan. 29 and the venue in New York's Madison Avenue on Feb. 7. Both Venturini Fendi and Brunschwig will attend the event in New York, which will be held during the city's Fashion Week. In the stores, there will be a special set, called "Dream Room," dedicated to the Baguette with storied bag models, chosen by Venturini Fendi, mixed with new designs for spring, and digital mirror animation and micro-Baguette personalized gifts.
In addition, the "Baguette Book," published in 2012, will be re-proposed in Fendi stores starting Jan. 20, with new digital content, including an interview with Venturini Fendi.