A trail of everlasting sensuality; An ode to the magic of the desert: with Les Sables Roses, Louis Vuitton pays tribute to the olfactory heritage of the Middle East.
Following Ombre Nomade, Master Perfumer Jacques Cavallier Belletrud pursues his interpretation of this exceptional legacy. Fascinated by the scents, rites and traditions of a several thousand year-old perfume culture, Master Perfumer Jacques Cavallier Belletrud now orchestrates a composition of contrasts, centred around the rose, oud and ambergris; three raw materials that have traversed time and geography to express "something eternal".
A landscape blanketed in crisp obscurity slowly comes into focus. It warms upon contact with the sun's first rays, wearing a majestic shade of rose that blends the dunes with the sky.
In the desert, sunrise and sunset are magical, fleeting moments that reconcile opposites. Night and day, shadow and light. Cold and heat, sky and heath. Captivating horizons entice the traveller to continue on their journey.
"At Louis Vuitton, perfumes are about contrast. One element enhances another, and vice-versa," the Master Perfumer Jacques Cavallier Belletrud notes. He brings this vision to life with Les Sables Roses, a hot-and-cold composition whose ingredients mutually elevate one another. It is a perfume of resolutely simple architecture, to better underscore the richness of its ingredients: a duo of rose and oud, accentuated by ambergris.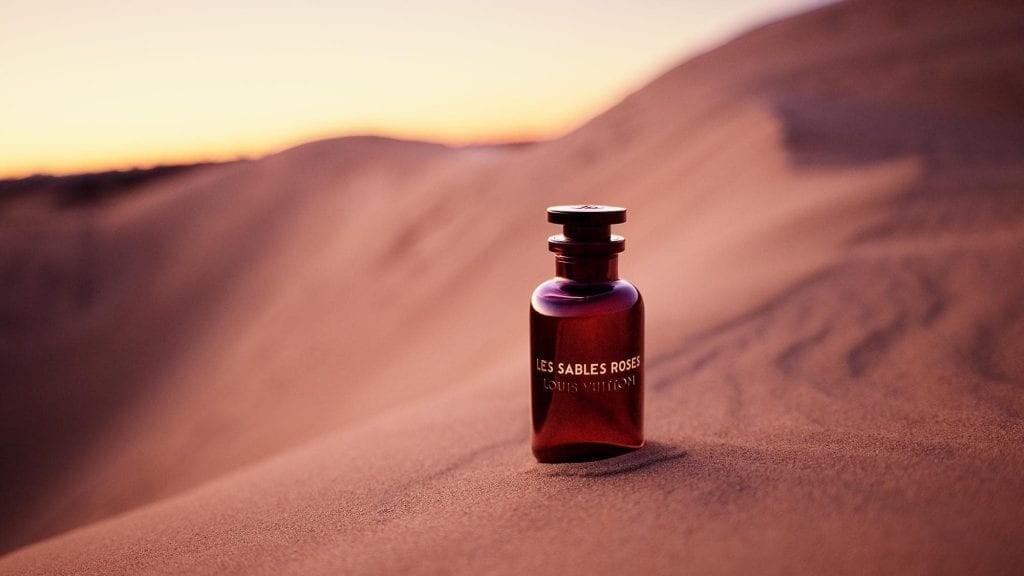 Les Sables Roses, exclusively pre-launched at Louis Vuitton Harrods.