We have exciting news from UK airports duty-free retailer World Duty Free about their exclusive launch of the new Shiseido WASO range which debuts on September 1…
Travellers heading through London Heathrow or Gatwick (or many other UK airports) in September should keep an eye out for one of the beauty businesses most anticipated launches of the year. As previewed on Duty Free Hunter earlier this year Shiseido Waso is a new range from the Japanese superbrand – described as a new and completely distinctive product range designed for Millennials, the range has been crafted to feel make the users feel beautiful in their own skin whatever their gender, nationality, age or status.
"WASO leverages the longstanding expertise and innovation that Shiseido is known for through its exclusive formulas.The time has come to challenge the status quo and change the conversation about beauty. We believe that true beauty defies stereotypes and we believe in the power of the individual and the power of nature. We believe that all things beautiful come from nature." – Shiseido.
What does WASO mean? It means skincare that is inspired by Japanese aesthetics, following the "Washoku" philosophy, which ensures that the range has been created with respect for nature whilst harnessing the power of botanical ingredients.
Blended with plants to balance the body and mind, WASO is more than just a skincare line for Millennials. The new product line, and the campaign, champions beauty-from-the-inside-out.
World Duty Free will carry the whole range but of particular interest will be these travel sized kits which bring a few of the WASO products together to suit your skin type. See details below:
DELICIOUS SKIN BENTO BOX
– Quick Gentle Cleanser
– Fresh Jelly Lotion 
– Colour-Smart Day Moisturiser
Quick Gentle Cleanser Inspired by Japanese Bento Box, this travel friendly set of 3 WASO products in trial sized includes: a 50ml Quick Gentle Cleanser to remove impurities and makeup, a 50ml Fresh Jelly Lotion to infuse moisture for dewy, hydrated skin, and a 15ml Colour Smart Day Moisturiser (15ml) to enhance skin tone with long-lasting hydration.
YOUR SKIN DIET – WASO – SET
– Quick Gentle Cleanser
– Fresh Jelly Lotion 
– Clear Mega-Hydrating Cream
Quick Gentle Cleanser A routine set of 3 WASO products including: Quick Gentle Cleanser to remove impurities and makeup, Fresh Jelly Lotion to infuse moisture for dewy, hydrated skin and Clear Mega Hydrating Cream to hydrate and help reduce the look of pores and prevent dryness.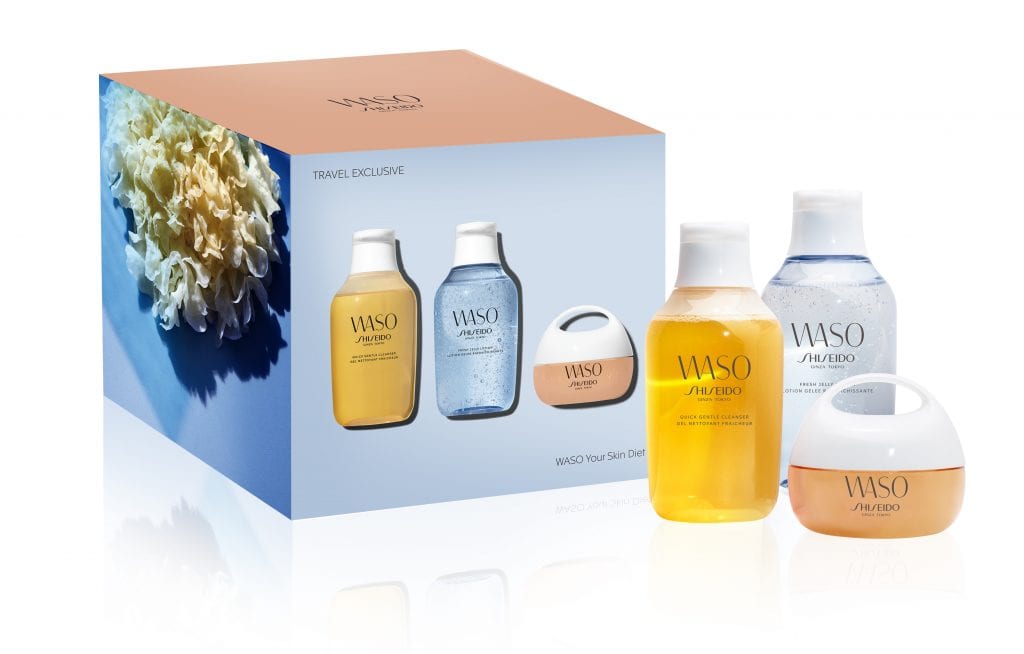 Shiseido also have exclusive travel kits for their suncare and men's hydromaster ranges – see below: 
SUNCARE COMPACT DUO Compact Duo SPF30 (Medium Beige)
– Compact Duo SPF30 (Medium Beige)
Your favourite compact foundation SPF 30 now available in an exclusive duo set. It will guard against harmful UV rays while providing a flawless makeup finish. Newly reformulated, this powdery foundation unites beautiful coverage with optimal broad spectrum sunscreen in a travel-perfect compact. Silky smooth texture glides on wet or dry skin to achieve a natural and matte finish.
HYDRO MASTER SET
– Hydro Master Gel
– Cleanser
Hydro Master Gel Shiseido Men Hydro Master Set includes a 125ml cleansing foam and a 75 ml Hydro Master gel. This set combines the essential hydration for all skin types. Empower your skin with immediate and long lasting moisture. Rehydrate, refresh, control oil.
For more details visit http://uk.worlddutyfree.com/