Chanel's Data Centre collection: Karl Lagerfeld reimagines techie-grunge with hoodie coatigans and light up handbags.
Karl Lagerfeld's set was not all that it seemed — all of that machinery, and the two robots dressed in tweed that opened the show, were meant to be a reminder of the power of the human touch. 'In an ultra-technological world where daily life is increasingly dematerialised, Karl Lagerfeld puts humans back at the centre of everything by making "Intimate technology" the theme of his collection,' the press notes explained.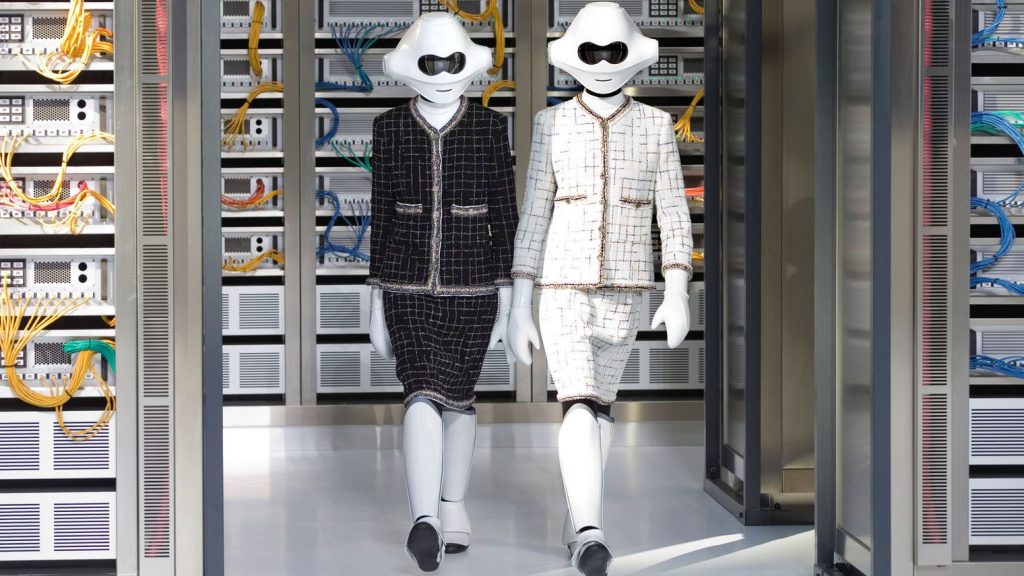 https://www.instagram.com/p/BLIyU1JgfRa/
Chanel is a house built on more than a century of looks and one of the best ateliers in the world. There's heritage there. And so with the exception of the bags, which lit up and flickered like old school computer screens, the tech theme stopped just short of the clothes, which included a mix of youthful and grown-up updates on the house's iconic tweed suit (an option for a woman of every age) worn over lace-trimmed silk slips and shorts and styled with baseball caps.
https://www.instagram.com/p/BLIv7jTBTL2/?taken-by=evachen212
https://www.instagram.com/p/BLIqrySBoh3/?taken-by=mffashion_com
It was all a bit of a mash-up of references and eras — very Back to the Future by way of an Eighties B-girl's wardrobe and her mother's lingerie drawer. But what the clothes, particularly the extensive line-up of tweed, did communicate was the power of Chanel and its team of unbeatable craftswomen and men. 'Without the human hand, without delicacy and savoir-faire, nothing would be possible,' the press notes read. 'After all don't two robots wearing two Chanel suits thus prove, perhaps, that more than any technological breakthrough, it is femininity that truly transcends time?'
These clothes felt much less like a social media moment (not counting the line-up of top models including Arizona Muse, Edie Campbell, and Lindsey Wixon) and more like a reminder that this house doesn't necessarily have to rely on the changing whims of likes and reposts. It's got a century's worth of archives and history, the ultimate data storage, to future-proof it.