Match any journey through Munich Airport to the duty free and luxury shopping available on departure, inflight and on arrival with Duty Free Hunter.
Munich Airport (IATA: MUC, ICAO: EDDM) (German: Flughafen München), is the international airport of Munich, the capital of Bavaria. It is the second busiest airport in Germany in terms of passenger traffic behind Frankfurt Airport, and the seventh busiest airport in Europe, handling 39.7 million passengers in 2014, an increase of close to 3% from 2013. It is the world's 14th busiest airport in terms of international passenger traffic, and was the 30th busiest airport worldwide in 2013. Munich Airport serves as the secondary hub for Lufthansa including Lufthansa Regional and its Star Alliance partners besides Frankfurt. The biggest foreign carrier in Munich in terms of passenger numbers is Air Dolomiti.
The airport is located 28.5 km (17.7 mi) northeast of Munich near the old city of Freising and is named in memory of the former Bavarian Prime Minister Franz Josef Strauss. It features two passenger terminals and two runways as well as extensive cargo and maintenance facilities and is fully capable of handling large aircraft such as the Airbus A380.
Terminal 1 is the older terminal and commenced operation when the airport was opened on 17 May 1992. It has a total capacity of 25 million passengers per year and is subdivided into five modules designated A, B, C, D and E. Modules A through D provide all facilities necessary to handle departures and arrivals, including individual landside driveways and parking, whereas module E is only equipped to handle arrivals. This design essentially makes each module a self-contained sub-terminal of its own. Modules A and D are used for flights within the Schengen-area, while modules B and C handle those to destinations outside of it. Hall F is separate, located near Terminal 2 and handles flights with increased security requirements, i.e. those to Israel. Furthermore, the checkin counters for some flights departing from Terminal 1 are located in the central area Z (German: Zentralbereich) where also most of the shopping and restaurant facilities of this Terminal as well as the airport's suburban railway station are located.
The 1,081 m (3,547 ft) pier features 21 jet bridges, two of which have been rebuilt into waiting halls for bus transfers. One gate position has been equipped with three jet bridges to handle the Airbus A380 which is regularly used by Emirates. There are further 60 aircraft stands on the apron, some of which are equipped with specially-designed apron jet bridges (German: Vorfeldfluggastbrücken), to which passengers are brought by bus. This unique concept allows passengers to board with full protection from the weather but without the high investments required for full satellite terminals connected through a passenger transport system.
Terminal 1 currently handles all flights from airlines that are not members of Star Alliance with the exception of Turkish Airlines. However, due to lack of capacity at Terminal 2, Lufthansa's subsidiary Germanwings and former affiliate Condor moved back to Terminal 1. Some of the major users at Terminal 1 are Air Berlin, Condor, Emirates, Air France, Delta Air Lines, British Airways, easyJet and Qatar Airways.
Terminal 2 commenced operation on 29 June 2003. It has a design capacity of 25 million passengers per year. However, having been designed as a hub terminal for Lufthansa and Star Alliance members, it is not divided into modules. Instead, all facilities are arranged around a central Plaza.
Due to security regulations imposed by the European Union, the terminal has been equipped with facilities to handle passengers from countries considered insecure, i.e. not implementing the same regulations. This required the construction of a new level as, unlike other airports, the terminal does not have separate areas for arriving and departing passengers. The new level 06 opened on 15 January 2009.
The pier, which is 980 m (3,220 ft) long, is equipped with 24 jet bridges. As the total number of 75 aircraft stands on the east apron is not always sufficient, Terminal 2 sometimes also uses parking positions on the west apron, to which passengers are carried by airside buses. Terminal 2 is able to handle the Airbus A380 as well, however there are no designated stands or additional jet bridges for it until the opening of the Terminal 2 satellite building. As there is no airline currently serving Terminal 2 with the A380, the largest passenger aircraft regularly handled there are the Thai Airways Boeing 747-400s.
Terminal 2 has two main departure level, 04 and 05 and additional bus gates on the lower level 03. Gates on level 05 (H) are designated non-Schengen gates. Until the new level 06 opened the northernmost gates were behind an additional security checkpoint for departures to the USA most of the day. The lower level 04 (G) contains Schengen gates. The bus gates on level 03, also designated G, are Schengen gates, too.
The terminal is operated by Terminal-2-Betriebsgesellschaft (German for Terminal 2 Operating Company), which is owned by Flughafen München GmbH (60%) and Lufthansa (40%). This makes Terminal 2 the first terminal in Germany which is co-operated by an airline.
Construction for the satellite building has started in 2012 and will be completed by 2015. This extension to Terminal 2 will see the baggage sorting hall on the east apron upgraded to become a satellite terminal. This will allow an additional 11 million passengers to be handled per year, adding 52 gates and 27 passenger air bridges. This plan was approved in December 2010. An expansion for the satellite building into a 'T' shape is also planned for the future along with another satellite and room for a possible 3rd Terminal to the east.[10]
While Terminal 1 still has plenty of capacity left – in 2011, it only handled about 11 million passengers[11] – the extension of the Terminal 2, which operates near full capacity, is required by Lufthansa and its Star Alliance partners to allow easy transfers within a single terminal. When Terminal 2 and its east apron were built, preparations for a satellite terminal had already been made. Besides the baggage transport tunnel, there are three more tunnels beneath the Terminal 2 apron that can receive a people mover and extensions to the current S-Bahn rail tunnel and unused inter-city rail tunnel respectively. The preparations also allow construction of a second satellite or an independent third terminal further to the east.
Munich Airport Center
The Munich Airport Center (sometimes shortened to MAC) is a shopping, business and recreation area that connects the two terminals. The older Central Area (German: Zentralbereich), which was originally built as part of Terminal 1, hosts a shopping mall and the S-Bahn station. The newer MAC Forum built with Terminal 2 is a large outdoor area with a tent-like, partly transparent roof. Next to it is the airport hotel managed by Hilton Hotels & Resorts which was designed by world famous architect Helmut Jahn and landscape architecture firm PWP Landscape Archtiecture in 1994.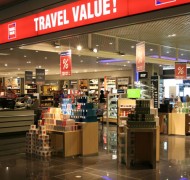 Munich International Airport Duty Free Shops

Duty Free and luxury boutiques at this airport include:
Eurotrade – Travel Value & Duty Free
Desigual
Accessorize
Bobbi Brown
Bottega Veneta
Capi
Desigual
Emporio Armani
Esprit
Porsche Design
Gucci
Hermes
Hugo Boss
Jo Malone
Kiehl's
MAC
Marc O'Polo
Maxmara Weekend
Mulberry
Picard
Tumi
United Colors of Benetton
Wolford